Any entrepreneur would want to be branded as the next Henry Sy, founder of SM group of companies, or Soccoro C. Ramos of National Book Store for they have established an imprint of their hard work in the Philippine industry. Both of these business leviathans are defined as the role models of success which we, Filipinos, want to become. Along with these successful tycoons are Atty. Felipe L. Gozon of GMA Network and Alfredo Yao of Zesto Corporation which most likely, have already been included in everyone's "Top Ten List of Most Successful Businessmen in the Philippines" but aren't they recognized more than enough already?
If you're a fiction fanatic, what if you knew that the impossible could transform to reality? Let's also give credit and applause to some of the "less media-covered (the silent ones)" (that everyone most likely doesn't include in their top ten list) yet amazing and hardworking entrepreneurs who paved their way from being a janitor or a maid to earning lots of bucks. Also, who could've known that only from having twenty pesos, you could turn it to millions? Not only have they earned those checks in their wallets, but also the hearts of the people with their inspiring stories still continuing to provide service and careers to the Philippine community.
1. Rosiell and Rudy de Leon - Bianca's Special

Rosiell and Rudy beside their ice candy "Bianca's Special". Courtesy of April 2015 issue of Entrepreneur.com.ph magazine
Anong magagawa ng bente pesos mo? (What can your P20 do?) You'll probably buy a Cornetto because of the TV commercial which Filipinos have been fond of way back 2009; but in 2011, Rosiell and Rudy decided to spend the down-to-earth P20 left inside their wallet to earn millions unknowingly. Well, let's set aside luck in lotto but appreciate a surer way to earn more with the couple's story.
When they fell to the nadir of their life, the only goal was just to feed and to send the child they've conceived when they were in Freshmen College to school in addition to paying numerous bills. As young parents, it was tormenting for them to see their own child being strapped in hardships; and it was definitely depressing to see a timid P20 peso bill sitting around your wallet when all of your bank accounts have gone bankrupt. Instead of giving up on life, it gave them the drive to do whatever they can.
Seeing that they were the only ones that owned a refrigerator in their neighborhood when they transferred to Antipolo, they took it to their advantage and bought 100 pieces of plastic bags to act as a container for water (which was all they had too) and froze them, producing ice. After selling them to their neighbors, they earned a P300 profit and from this, they started an ice candy business.
"Huwag silang susuko. I-decline man sila, hindi naman lahat 'yan, aayaw. Tsaka ang negosyo kasi hindi laging may kita. Kailangan lang nilang mag-tiyaga, magsikap." (Don't give up. Even if you get declined, not all of them would. And not all business have profits. Hard work is really needed.) said Rosiell now that she's stable and earning much more; which is of course an advice that they conformed to.
It was a slow process at first that needed patience and hard work, lots and lots of the two. For opening the ice candy business, they earned a P500 daily profit then it expanded to a P15,000 monthly profit. After doing the same process for almost four years, the couple now earns P15,000 daily, the value they only earned in a monthly back then. Now, their monthly income adds up P450,000 which estimates to over P5 Million in over a year.
2. Gian Scottie Javelona - OrangeApps
Gian Scottie Javelona wanted to change lives by making revolutionary products.
Photo courtesy of OrangeApps
"Sometimes, you need to break some rules to make big things happen." quoted Gian, a graduate of computer engineering at Polytechnic University of the Philippines (PUP) who really lived up to his words based on how he fulfilled his dreams.
Being inspired from Steve Jobs, he established the first mobile portal app at the age of 19. He was also our very own Pinoy Zuckerberg who founded Facemash (the pre-Facebook application) by getting pictures from Harvard's websites without asking for any copyright permission. Just like what Zuckerberg did, Gian created the PUP Mobile Portal without seeking permission from PUP. Eventually, he got caught and the President let him present his creation to be utilized for education.
After releasing his application, he soon founded his first company, the OrangeApps to change the lives of people thought his products. He made it by earning the trust of investors and being funded by numerous powerful groups like the Angel Investors, Microsoft Corporation, Idea Space Foundation and others in the country.
"When I was in high school, I told myself that one day I am going to build my own company, a Filipino version of Apple and will name it Orange Apps. Here I am now living that dream." he stated from an interview from TechInAsia. No one supported him initially but he let no one block him from doing what he wanted to create.
3. Steve Tamayo - Tamayo's Catering and Services
Steve Tamayo satisfied with his hard work.
Photo courtesy of Tamayo's Catering and Services (tamayos.com.ph)
Steve isn't a graduate of hotel and restaurant management or even culinary arts but how come he owns a successful catering company? Well, sometimes everything just doesn't seem to match up with our backgrounds but if it's meant to be, everything would eventually fall in its rightful place.
Burried in poverty from Hagonoy Bulacan, Steve faced all the struggles of life at a young age. His family was originally rich because his father was a former kapitan (captain) and had numerous business in the fishing industry. Unfortunately, his father experienced stroke which made all of their earned money and properties vanish in thin air. He could've experienced a good life before struggling but he was born the eleventh out of twelve, forcing him to venture to Manila after finishing high school to work as a janitor. Having the task to clean toilets everyday just to desperately earn money for his education, he did his best to earn money without being involved in any illegal matters.
Grabbing the opportunity given to him, he traveled to Kuwait and accepted the job of being a waiter even if it was irrelevant from his current course, accounting. After four years, he traveled to Saudi Arabia as a manager but still did sidelines like cleaning just to earn more. Unfortunately, a war occurred back in 1990 which decimated all of his properties and earnings. All of the blood and sweat that he strived for profit disappeared. Despite being trapped in the war, he was still able to safely go back to his hometown even with zero earnings in his hands.
These experiences became his capital to initiate his own business and rebuild his life instead of losing everything as it is. He sold packed lunch wrapped in plastic to students in a Private School and other goods in front of his wife's beauty Parlor. Being offered with jobs from here and in abroad, he didn't let go of them even if it was a slow process that needs lots of will and patience to start over again. He earned his investments back after working hard, opened a restaurant which he named Tamayo's Catering and Services which has now more than 13 outlets throughout the country.
4. Au Soriano - PinoyTravel
Photo credits: TechInAsia
"I was already a mother and a wife when I became an entrepreneur. It's a constant battle about prioritization. Work consumes you physically, emotionally, financially. You just have to deal with what's urgent on a daily basis, while keeping an eye on the target... Difficult, but overall, fulfilling." stated Au Soriano from PinoyTravel. The way she seeks for opportunities just like an eagle hunting for its prey could be the reason of her success now.
I know we're all exhausted of the seemingly traffic that handcuffs us from our destination especially when we're running late to work or to our families waiting for our arrival. Let's add the agitating rivalry of finding a space but thanks to her, the terrifying stampede that could occur when physically racing over a seat was lessened.
Au Soriano hailed from Bauang La Union and was raised always commuting by bus with her family, thus witnessing the daily advancement of the telecommunications industry by seeing lots of distinct people who similarly utilize gadgets while traveling. This sparked her alertness and creativity during a normal fateful day of the 2012 Holy Week when a brilliant idea conquered her. Being a holiday with lots of workers in thirst of seeing their families just to hug them tightly when they arrive home, crowds were quarreling over where to seat. Along with the pool of commuters were gadgets, either phones tablets or laptops paired with each individual. This kindled her idea of forming PinoyTravel with different organizations that funded her by seemingly being like a clairvoyant who projected the digital future while holding a crystal ball.
Along with hard work, we should have an alert mind. Who knows? You might be a president of a successful company if you just look at your surroundings no matter how small the issue seems.
5. Aisa A. Mijeno - SALt (Sustainable Alternative Lighting)
Photo credits: de la Salle University Lipa
Aisa isn't just an entrepreneur but also our very own female Pinoy Thomas Edison who created a lamp that could use salt and water! Imagine being able to have electricity whenever there's a power shortage in your location? There's even a charging outlet under the lamp where you could connect your phone with.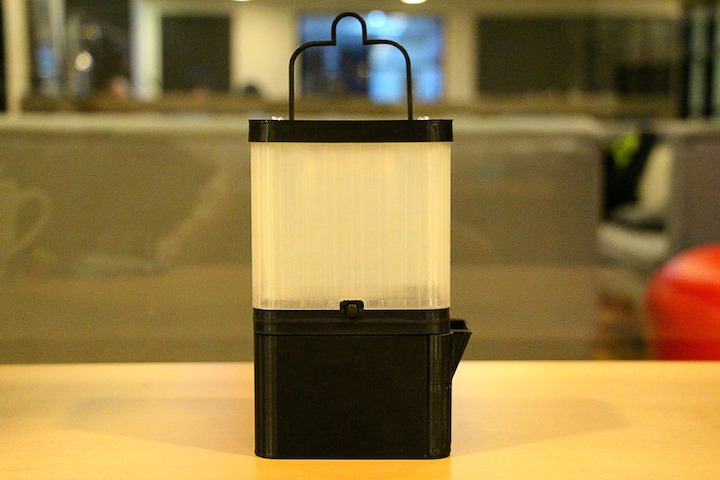 Photo taken from SALts's Facebook Page
Aisa was in the IT industry until she quit on 2008 to do volunteer work in Greenpeace Philippines as a direct dialogue campaigner. Being enthused as a volunteer worker, she visited a lot of rural areas in need of help, thus experiencing first-hand how everyday life while immersing was different to the light-studded city she came from.
Visiting the Kalinga highlands, she stayed with the Butbut tribe located at Buscalan. Just like the primitive times, day was for work and night was just for resting until the cycle repeats when the sun rises again. Of course there were lamps but they had to walk 12 hours to reach Bontoc, the nearest town which was approximately 50 kilometers away just to get kerosene to ignite their fuel-hungry lamps. It was time consuming and ofcourse for them, expensive.
Going back with a vibe of responsibility, she experimented with IdeaSpace with too much motivation and perseverance even with her continuous failure that she was even called a "mad scientist" by the President. Her experience with the ethnic groups led to the idea of discovering Sustainable Alternative Lighting (SALt), the lamp that doesn't require fuel, batteries or electricity to work but just salt and water. This would not only help a lot in the rural places she visited but also with the Philippine economy.
Aisa Mijeno with her SALt. Photo courtesy of Aisa Mijeno.
"Go out and experience the world. There will be more real eureka moments when you are out there. And once you find that important eureka, do not be afraid to grow it into a business. You will be surprised that there are people who need your innovation." advises Aisa; so to all youthful brains out there, never be afraid but be excited to discover and feel your own moment of "Eureka!" (I have found it!) just like how Archimedes did.
Want to know more stories about local Filipino entrepreneurs? Check out five (5) more entrepreneurial stories in the coming days.