Having headache thinking where to spend your summer vacation this year? Also, you're probably worried about your budget, right? Well, Relax. Stop worrying!
Have you forgotten?

Philippines boasts some of the most exciting prospects for summer

; from its

gorgeous beaches and luscious dishes to those sets

of friendly people anyone would wish they'd meet.

Well, if you are planning to spend near Metro Manila, there are summer destinations nearby that can offer you a well deserved vacation. This might be a shock for you, but you can still have fun under the sun

without overspending.
Here are five summer destinations near Metro Manila that you can consider visiting for your much awaited summer holidays?
Summer in the Philippines can be excruciatingly hot. Because of the summer heat, people choose to visit Tagaytay. If you just want to unwind and chill, consider visiting
Tagaytay. The place offers the finest views, with cool atmosphere. Don't miss the chance to visit Sky Ranch or simply roam every morning in one of the city's parks and gardens. You'll surely love the vibe the place radiates.
How to get there
?
From Manila, take a bus bound for Tagaytay or Nasugbu or you can also take a shuttle/van to Lemery at Starmall Alabang or Shaw.
Daily suggested budget? 850Php-1500Php.
It is an undeniable fact that summer is the best time to hit the beach, right? From Metro Manila, approximately four hours traveling will get you to a place so serene and alluring, Puerto Galera,

where city-dwellers visit for beach activities such as swimming and beach bumming

.
D
eclared a Man and Biosphere Reserve of UNESCO in 1973, it is one of the destinations with the richest marine biodiversity in the world. Visitors can experience their dream of enjoying life in white sand beach there without spending too much unlike when you go to Boracay where most partygoers and socializers set off during summer holidays.
How to get there? Ride a bus from Manila to Batangas pier then transfer to ferry going to Puerto Galera. You also need to pay the Environmental User Fee (50 pesos) and the Terminal Fee (30 pesos) at the Batangas port passenger terminal.
Daily suggested budget? 1000Php-1500Php
Image Source: SunStar, RJ Dizon
Planning to suffice your gastronomical needs this summer? Pampangga is one of the best places in the Philippines to visit to enjoy culinary specialties. Try out the local Filipino cuisine, from fine dining to street food, as well as international and fusion foods that are mouth-watering and carefully prepared. From exotic foods, sweets and something delectable just name it and Pampangga has it. And oh, don't forget to try their delicious sisig. It's outrageously good!
How to get there? From north side of Edsa, ride the Victory Liner to Pampanga.
Daily Suggested budget? 500Php-1000Php.
Are you the history buff kind of person and summer is the best time to replenish drained energy and knowledge? Visiting Laguna is like learning and relaxing at the same time. Hitting two birds with one stone, right? These days, you can book a tour to enjoy Pagsanjan Falls-the most spectacular waterfall in Luzon- by boat. The boat ride has served as an attraction since the Spanish era with the oldest written account in 1894. But if you're prone to motion sickness, you can hike from Cavinti Laguna going to the falls.
How to get there?
Go to the Green Star Bus Terminal on
Sen. Gil Puyat Avenue (Buendia) corner Taft Avenue.
Ride an HM Transport/Green Star bus to Sta. Cruz. Get off at Pagsanjan/Jam bus terminal in Barangay Pagsawitan, Pagsanjan, Laguna. Ride a jeep to Pagsanjan, Lumban, Paete, Siniloan, or Caliraya, and get off at your destination. The ride takes about 20-30 minutes.
Suggested Daily Expense? 500Php-1000Php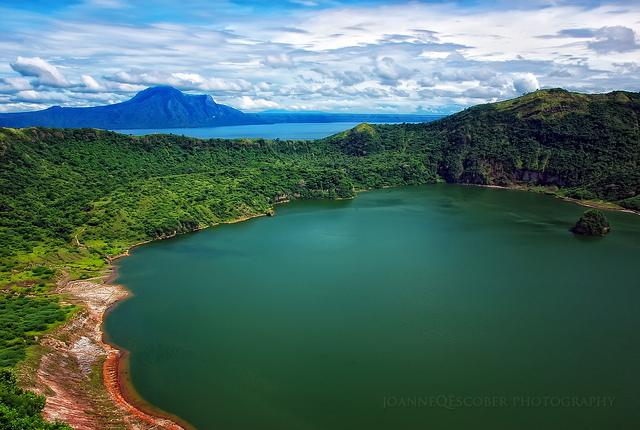 This Summer don't miss out visiting Oregon's Crater Lake cousin, Philippines' very own Taal Lake. After admiring Taal Volcano from afar, hike to its crater and appreciate the beauty of the place from the top. By far the most popular of several possible hikes is the well-worn trail up to the main crater overlooking the sulfurous pool. The walk takes about 35 minutes but if you're too lazy to walk you can ride a horse for P500; guide's charge is P200. Due to its impressive history and exquisite structure not to mention the admirable nature view surrounding the place, Sandara Park, or Dara of now-defunct 2NE1, once mentioned in a famous Korean variety show that she'd gladly say yes to her boyfriend if he'll propose there.
How to get there: You can depart from Cubao bus terminal to Tagatay. Buses leave every 30 mins. Just ask the bus conductor you want to get off at the nearest Taal volcano stop. From there, you can get a jeepney.
Daily suggested budget? 500Php-1000Php
The Philippines offers a wide-ranging list of things to do and places to visit making it the perfect summer destination for families, colleagues and friends. Indeed, it's more fun in the Philippines!